Kennedy Health – Cherry Hill Replacement Hospital
Cherry Hill Township, Camden County, NJ – In 2017, Kennedy Health's Cherry Hill Division completed a magnificent Atrium Entrance and five-story medical office building (MOB) at the Cherry Hill Hospital Campus. Phase II of the plan recently received preliminary and final planning board approval.
CES was honored to design, provide permitting services and Planning Board testimony for a six-story replacement hospital building that will join the new Atrium/MOB. The project is approximately 250,000 square feet with a helicopter pad on the roof. It will include a new surgical suite, medical lab and support facilities, and move to a private hospital bed model. New cherry trees were added to the site and County Road landscaping plans to reflect Cherry Hill Townships tradition.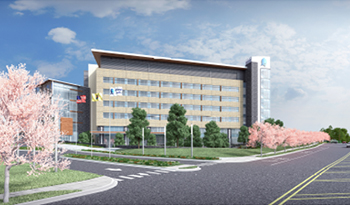 Services:
Preliminary and Final Site Planning
Permitting
Traffic
County Road
Planning Board Representation